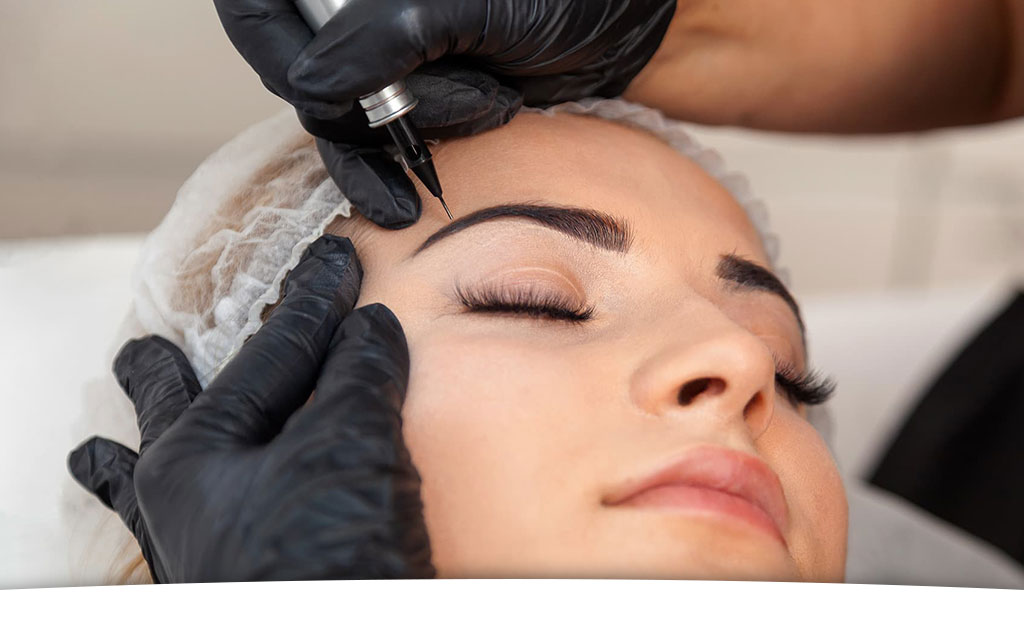 Permanent makeup/dermopigmentation
We provides specialized, high-quality treatments and professional guidance to help you put your best face forward.
The advantage of premium permanent makeup is its soft and impeccable finish, and remarkably natural look.
Permanent makeup lets you look and feel your most beautiful and radiant at all times. During your consultation, Marie-Audrée will listen attentively to your needs to determine the treatment that's right for you.
About the technique
Dermopigmentation is used to reshape or redraw the eyebrows, accentuate the eyes, or redefine, brighten or plump up the lips. It involves implanting pigment in precise locations under the skin to enhance your features.
Semi-permanent make-up creates a long-lasting, natural and elegant look.
Make an appointment for a consultation to enhance your natural beauty and help you look your best around the clock.
Is it painful?
The area will be numbed before the procedure, and most people don't feel any pain. However, a small percentage may feel slight discomfort.
What is the healing time?
Anywhere between 3 and 14 days, depending on the area treated and how fast your body heals.
What will the makeup look like right after the session?
It will look darker and more intense than the final result.
How long does a session last?
From 1 to 3 hours.
Eyebrow dermopigmentation
Eyebrow dermopigmentation is a filling technique that reshapes, enhances or fills in your eyebrows. It's semi-permanent, so you can enjoy having perfect eyebrows for the next several years.
Our eyebrows play a key role in framing our face and are essential to our facial expressions. Having nicely shaped eyebrows makes your eyes look bigger and takes years off your face.
Redrawing your eyebrows to suit the shape of your face will do wonders for your appearance.
Enhance your eyebrows!
Correct asymmetric or uneven eyebrows.
Make eyebrows appear fuller and more structured to highlight your face.
Make sparse eyebrows appear thicker (for a full, natural look).
Ideal for framing your face if you have pale or non-existent eyebrows.
Perfect for filling in holes, scars, or hair loss.
Ombré eyebrow shading
Natural filling technique (powder effect).
Pigment is implanted in the skin to recreate the effect of a translucent powder.
Slightly more intense powder effect than natural ombré shading.
Filling in the base of the eyebrows leaves them looking thicker, fuller, and more structured!
Natural ombré eyebrow shading
Very natural filling technique (powder effect).
Pigment is implanted in the skin to recreate the effect of a translucent powder. Soft, subtle effect!
Ideal for fair hair or for people with thin or sparse eyebrows.
Filling in the base of the eyebrows leaves them looking thicker, fuller, and more structured.
Eye dermopigmentation
Put your best face forward with gorgeous, sparkling eyes. This temporary makeup will make your eyes pop!
Permanent eye makeup highlights the natural shape of your eye, accentuating your gaze and giving it more depth.
Various permanent eye makeup solutions exist:
Thicken eyelash lines and redraw eye contours.
Draw on eyeliner (upper or lower lid).
Eyelash densification, etc.
It is possible to combine several of these solutions.
Here are some advantages:
Makes eyes look brighter.
Brings out the colour of your eyes (especially black).
Highlights the natural shape of the eye (doe-eye).
Corrects hooded or round eye shapes.
Ideal for people with fair eyelashes or light eyes.
Creates a healthy glow.
Eliminates the appearance of tired eyes.
Adds brightness and brings out the colour of the iris.
Highlights your eyes (the intensity will be tailored to your eyes).
Favourite: Intralash
The results are unbelievable!
Intralash uses a dark pigment to enhance the base of the eyelashes, for a thicker, fuller look.
Here are some advantages:
Highlights the base of the eyelashes, creating volume and defining and widening the eyes.
Frames the face perfectly with or without makeup.
Makes pale, "dull" eyes look brighter.
Very natural, long-lasting way of highlighting the eyes.
Lip dermopigmentation
Unlike injections, dermopigmentation precisely redefines the contours of the mouth, which often fade over time, leaving lips looking asymmetrical, thin and undefined. Once healed, the pigment implanted in the lips has a translucent, sheer appearance.
Here are some advantages:
Makes lips look fuller.
Makes lips look slightly redder.
Complement to injections (uses colour to redefine and reshape the lips).
Can also add volume to lips without using collagen.
Redefines lip contours (disappearing contours) or asymmetrical lips (perfect mouth).
Restores lips contours (when they appear collapsed).
Makes lips appear larger or smaller.
Corrects minor imperfections.
Make an appointment